Spread the word!
You can support Mary Sakuma by volunteering to help. It can be as easy as posting a sign in your yard or bringing some friends together for a casual "meet and greet" at a local coffee shop. No matter what you choose to do, you'll know you're helping our students, educators and schools in a very real way.
Complete the form below and we'll get back to you pronto!
Your homework assignment
If you want to tell your neighbors or colleagues who you're supporting for Butte County Superintendent of Schools, download this 8.5 x 11 PDF and print it out to put in a front window.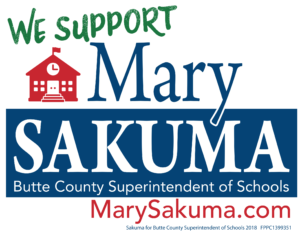 Call me. Let's talk!  530/680-9248